With the New Year fast approaching, what better way to celebrate the year that was than by paying homage to some of our favourite memes? And after much debate amongst the Ubelly team, here are a few of our highlights…
Royal Wedding Girl
As 2011 comes to an end we tend to start looking back at 'Person of the Year', 'Brand of the Year' or, dare we even say it, 'Celebrity of the Year'. But it was the 'News Stories of the Year' that caught our eye as journalists and bloggers alike, rather embarrassingly all missed a rather key and memorable face.
We are sure she goes by a normal, Jane Doe style name in real life but on the Twitterz she is known as Royal Wedding Girl.  What we like most about Royal Wedding Girl, is how she has managed to make even the most idiotic of person, in the most idiotic of moments, look even worse than they did before. And bless her she's not even trying, she just wants a moment's peace in this crazy, crazy world.
Made famous by the wedding of the year, and playing a leading role in the traditional balcony kiss that will be shown to the next few hundred generations down the line, we predict the Royal Wedding Girl isn't going anywhere, and will have her second wind of fame soon enough.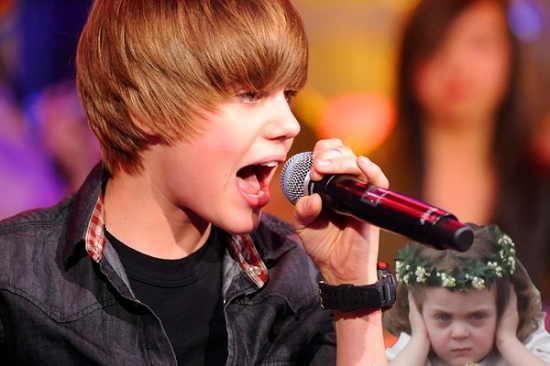 I Took an Arrow to the Knee
Just in time for a best of memes list 2011, I Took An Arrow to the knee is taking forums and comment boards by storm after the stock phrase was overused in the recently released Elder Scrolls V: Skyrim.
In Skyrim, you will inevitably talk to a character who will say 'I used to be an adventurer like you, then I took an arrow to the knee'. It may have been wise to pack more options in the random Skyrim character phrasebook, but it's good they didn't, as the funniest comment you'll see in forums and comment threads will now include the memo, for example: 'I used to troll message boards like you, then I took an arrow to the knee'.
We have to say, up until this meme started, Rebecca Black was a shoe-in for the number one spot… but then I took an arrow to the knee.
[youtube]http://www.youtube.com/watch?v=vncIBREXCwU[/youtube]
We are the 99 Percent
Another huge phenomenon to take over the interwebz this year was  'We are the 99 per cent' (a.k.a. I am the 99 percent).  Originating from the Occupy Wall Street movement, this maxim has been widely chanted and painted on plaques in the build up and throughout the protests against social and economic injustice that have spread to cities, big and small around the globe.
Gravitas and fun spinoffs – what more could you ask for in a meme?
…We could go on and on but to wrap things up, here are a few more works of genius that we simply couldn't miss of the list:
So there you have it! Which memes were you loving this year? Let us know in the comments or on Twitter.